Som-Zir (Full Contour Zirconia)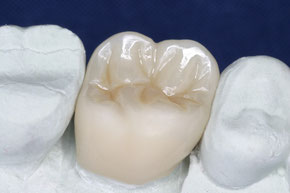 Our Som-zir crowns are a durable solution that is less expensive and more aesthetically pleasing than full cast crowns.  Because frequent grinding or clenching of teeth puts extreme wear on dental work, your bruxing patients need a strong solution.  Our Som-zirs deliver, with an all-zirconia structure that provides material durability… without the cost of typical PFM restoration or the obvious look of full cast metal crowns.  The CAD/CAM milling technology delivers consistent quality while the all-zirconia material provides solid, chip-resistant results with no porcelain overlay.
If more aesthetics are needed, Somer can add  porcelain for an aesthetically layered look without compromising the strength.
---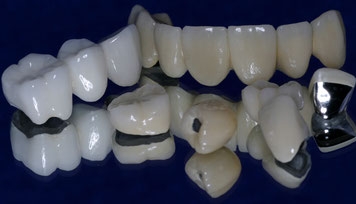 Porcelain Fused To Metal (PFM)
From single units to full arch bridges Somer offers many types of excellent alloy choices.
Non-Precious
White Noble
White High Noble
Yellow High Noble
We have teamed up with the industry's best manufacturers of laser millers to produce copings that have a perfect margin and fit.  Somer Dental  technicians scan ( using state of the art digital scanners) and design (using the most current software) every restoration to fabricate a metal coping that provides a perfect marginal fit and porcelain support.
For porcelain, Somer uses the best to produce the best results.  The granular structure lends itself to excellent wear characteristics. Our ceramists achieve amazing shade nuances and control.
---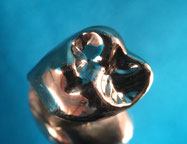 Full Cast
 A full-cast restoration is ideal for single unit crowns or bridges when occlusal space is limited. Somer scans and designs the full cast crowns and either we mill them directly or print them in wax to cast them traditionally. Both ways are high polished and fit perfectly.   Available in:
 Yellow or White Non-Precious
Yellow or White Noble
Yellow High Noble
---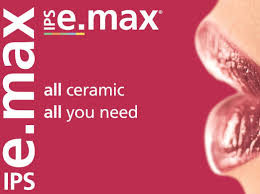 IPS e.max®
The ultimate in metal-free aesthetics, IPS e.max® is designed with simplicity and versatility. Using high-strength and durable materials, the Lithium Disilicate is further enhanced by nano-flouapatite making it ideal for both anterior and posterior. This provides the best aesthetic result in dentistry.
Hint: All e.max cases are enhanced by the use of a prep shade*. Restorations will be more lively, vital and natural. Send the prep shade; we'll give your patient maximum esthetics.